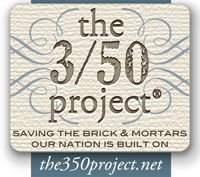 Even if you live in a big city, everyone has their own little community or neighborhood and if you're like me and live in rural America, that community can stretch for counties.
The 3/50 Project
is an initiative to preserve and support locally owned businesses, who are oftentimes the backbone of these communities.
From the 3/50 website: [The 3/50 Project was] created to build loyalty and increased revenue for independent, locally owned businesses. The 3/50 project relies on a simple message: "Pick 3. Spend $50. Save your local economy."
Here's how it works...
• Pick three locally owned businesses you'd hate to see disappear, then return to them.
• Spend $50 per month in locally owned businesses. If half the employed U.S. population did so, it would generate more than $42.6 billion in revenue.
• For every $100 spent in locally owned businesses, $68 returns to the local community. When spent in a big box, chain, or franchise, $43 remains. Purchases made online return nothing.
The Project isn't an all or nothing endeavor. We all love Best Buy, Starbucks and Target. The Project's goal is one of balance and consideration. It asks you to think about where and how you're spending your money.
Please join me in supporting local business. We all spend money... make your dollar count.