Delicious autumn! My very soul is wedded to it, and if I were a bird
I would fly about the earth seeking the successive autumns.
I suppose everyone has their favorite time of year... without a doubt early autumn is mine. Autumn begins with my birthday (yay!) and at least in my mind ends with the best holiday of the year, Thanksgiving. I love the cooler weather and the vibrant colors. There's lots of activity in the fields and in nature as we prepare for the cold months ahead. I always see autumn as a time of reflection. A new school year, a new year ahead for me. Summer's long, lazy days are behind us and I always feel a renewed sense of energy... time to get busy once again.
I have this silly way of observing my birthday every year. It's nothing big and no one else really is even aware of it. On the weekend closest to my birthday I always go out and buy mums and pumpkins. It's my little gift to myself. Most years I can hardly wait to decorate for fall. I love all my containers filled summer flowers but somewhere along the way I usually loose my interest and my discipline when it comes to taking care of them, so by the end of September they are no longer the happy sights they once were. Fall decorating is my chance for a do-over.
Even though my basic autumnal
repertoire consists of the traditional pumpkins and mums, there are tons of decorating options. I like to concentrate on the front of the house. I enjoy seeing my home look cheerful and inviting both to me and my neighbors. I'll be doing some outdoor decorating over the weekend though I'm not sure what I'll end up doing yet. Here's some inspiration (for both you and me!).
(credit)
It's a little soon for Halloween decorating, but still a cool idea. I like the gourd skulls. One of the great things about fall decorating is the easy transition from one fall holiday to the next. You really get a lot of bang for your effort.
(credit)
I love orange! How cool would it be to have an orange door? Since my house is butter yellow with green trim, that's not happening any time soon at the Mouse House. I think swapping out your porch accessories for more seasonal ones is a quick and easy thing to do.
(credit)
If you know me then you know I LOVE anything that's monogrammed. I will even buy stuff at flea markets and thrift shops that has someone else's monogram on it. I think this is definitely a project I am doing this year. (I know this photo looks more Christmasy than autumn, but a simple color switch and there ya go.)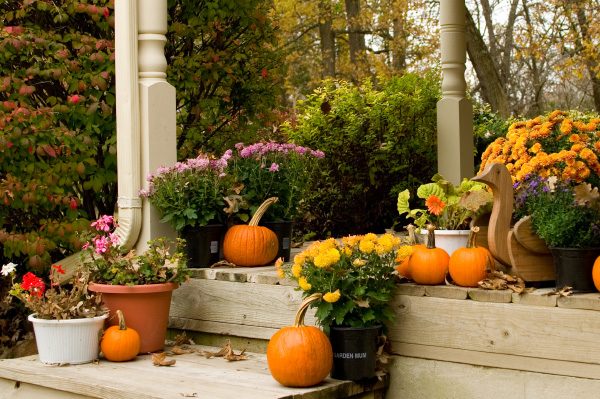 (credit)
If you look closely at this picture you see they have combined mums and pumpkins with what's left of their summer flowers. If you haven't killed your summer flowers yet, this is a nice way to blend the seasons. I always end up buying red geraniums and they would have looked great with the orange and yellow that's so prevalent in autumn decorating.
I am loving the stacked pumpkin look. I've already seen a few people do it this year and I am eager to give it a whirl. I asked a friend of mine who had done it just what the trick is. (I wondered if you staked the pumpkins together somehow.) Apparently, all you need to do is find some pumpkins in graduated sizes that will sit nicely on top of each other. It's that simple. She said Cinderella pumpkins work best.
(credit)
Very cute Halloween idea that isn't to creepy or scary. I love the flower eyes.
(credit)
This appeals to me because I have a little cafe table on my porch very similar to this one. In theory, I thought we'd use it more than we do, but since we don't, filling it with some fall decor won't be a problem. I really like the Indian corn. It adds a nice burst of color and texture.
(credit)
When you think about pumpkins, do you only think about the plain orange variety (or maybe a Jack-o-Lantern? ) I think the stacked display is very appealing but I also love the painted pumpkins. I personally find carving pumpkins to be pretty challenging, so painting them opens up so many options. The metallic paint used here is pretty trendy and would be a fun way to incorporate something like that without a big financial investment or altering your whole interior design.
A very simple but elegant outdoor decoration. It has height, depth, color and texture. A real winner. Plus it is so very simple.
This just makes me want to have a autumn party. I can see my whole backyard lit up with pumpkin lanterns. Who says that outdoor living ends when summer is over?
(credit)
I like the lightness of this color scheme. It's a bit non-traditional but there's no mistaking what season it depicts. The argyle pattern on the big orange pumpkin is on mark for the fall and my kids would think I was the coolest mom ever if I carved a Jack Skellington pumpkin.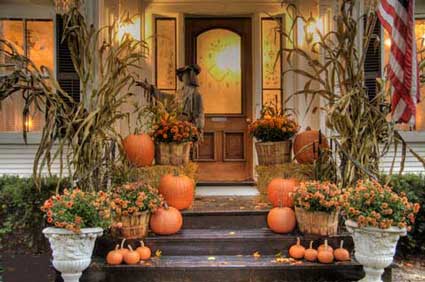 This picture is probably most like my front door and porch and is likely what the Mouse House will end up looking like (maybe minus the corn stalks). I find it very inviting. Even though it still feels like summer, we all know that in a matter of weeks that will only be a memory and having a welcoming front door will be even more appreciated.
This post is part of LoveFeast Table's Fancy Fridays, where Kristin and ChrisAnn invite you to share what inspires you. What to you do to spiff up your home for autumn?